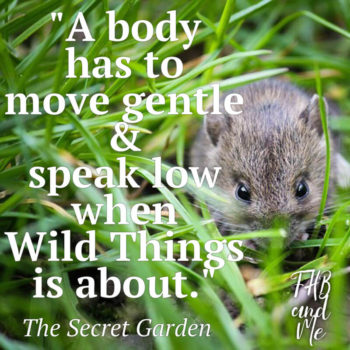 Simmering Down: A Lesson in Moving Slow
October 26, 2016
"I got up SLOW," Dickon explained,

"because if one makes a quick move it startles them.

A body has to move gentle and speak low when WILD THINGS is about."

The Secret Garden, Frances Hodgson Burnett
---
My wedding anniversary last week got me to thinking about how and when we first met:
 Stephen F. Austin State University

Nacogdoches, TX 

Summer of 1994 

Swimming 101 Class 
Topping the charts that Summer was "Fantastic Voyage" by Coolio, which I would blast in my car around campus.
I was a third semester sophomore taking some challenging academic classes over the summer and decided to get a P.E. credit out of the way too.  Patrick on the other hand, had just completed a not so stellar freshman year, and was taking some easy classes to get his GPA back up so he could remain a student the following Fall. He was definitely a WILD THING like Dickon spoke of in The Secret Garden. 
Swimming 101 was taught by Coach Hufty: Monday through Friday at 8 AM. Each day I would roll out of bed, arrive barely awake with no make up on, no hair done, wearing the not-so-flattering one piece bathing suit required for the course…NOT my best look.
The 12 lanes of the campus pool were filled with 10 male and just 2 female students(me and one other), most of which were just coming in from last nights fun, reeking of who knows what. We were all moving VERY slow each morning and loud noises like coaches whistles were frowned upon, but Coach Hufty didn't seem to care. 
I surveyed the situation that first day and then quickly became friends with the "other" girl, who's name my 42 year old brain cannot seem to recall. She and I would pass the time in between laps chatting about anything and everything to make the class time bearable.
Her lane was to my right, and in the very next lane was this 6'4″, blonde haired, blue eyed guy, who quite often would butt into our conversations, challenge us to races across the pool, or tell the coach if we weren't doing that particular stroke right. I immediately loved and hated him, all in the same moment.
Remember when you were in the 2nd grade and the boys would always kick the shins of the girls they liked? This is how he played with me, but I was clueless that he could be flirting. 
And because I was raised with two older brothers, I knew how to play this shin kicking game well, and punched back with gusto in my florescent Walmart onesie. Sarcastic one-liners flew across the lanes that summer like a ping-pong match over this sweet, name-less girl's head. Then just like that, the class was over, and so was the game.
Until a few months later, I heard the familiar voice calling above the crowd at the local watering hole.
"Deupree!" he called, because Coach Hufty only called role by last name.
"Wilt!", I yelled back, as I looked at him for the first time in real clothes. "I barely recognize you with your clothes on!" (I now wonder what people around us must have thought I meant.)
But, he had a shirt on! All summer I had been playing games with this guy in just a bathing suit and glasses. And here was a super cute guy in contacts and real clothes. He was a complete "Pun-kin", a term my friends and I would use to refer to a cute boy.
Who knew?
Then…he opened his mouth and out spilled MY whole life: where I lived, who I was friends with, what kind of car I drove, and so much more.  Now, perhaps I should have been concerned that he was a stalker. But, as he kept talking, I quickly realized that when we weren't playing our games, he was listening to my every word.
He soaked in EVERYTHING I told this no-name girl

and locked it up inside for just this moment.
I was so impressed that he had taken the time to listen, that I gave him my number right then and there. This guy was different, and I wanted to know more.
A few days later, he called…and we met on the campus track for our first date: A RUN.
I ran. He, well, not so much. He went once around, had an asthma attack, then waited for me to finish in the stands, where we continued our date laughing under the stadium lights. It was a great first date.
I came home that night with a giant grin and knew I didn't want that feeling to stop. And because my relationship history had not been filled with stellar choices thus far, I decided to get some help.
I called in the big guns. I called: My Mother.
"Mom, he saw my butt jiggle and asked me out!", I said as soon as she picked up.
Now, let me be clear, I had NEVER asked my Mother for dating advice EVER before this, but something deep inside me had been stirred by him, clearing causing me to do crazy things like calling my Mom.
A little bewildered, my mother said "Who?"
"This guy, Patrick from my summer swimming class," I stammered and then proceeded to ramble on about how he had seen me at my worst in that ugly bathing suit with no make up or hair done, and how he listened to me talking in class and had remembered everything about me.
"I was so impressed Mom. I really like him and I think I need to do this whole relationship thing differently with him. So I called you for advice."  I said and then patiently waited for her response while sipping my tea.
Now, I am sure she fell off whatever chair she was perched on, but the shock didn't show in her voice when she shared her simple advice:
"Take It Slow, Don't Rush It", she said. 
SLOW. What is that?
Anyone else have a hard time with that word SLOW? I am not sure I have a SLOW mode. I mean, I don't even use that setting on my crock pot for goodness-sake! I'm more of a "let's get this done", NOT a "let's see how this develops" kind of girl.
But I was willing to give this SLOW thing a try because I certainly didn't want to "flight him".
"Don't tha' move," he said. "It'd FLIGHT 'EM." Mary remained motionless.

He stopped playing his pipe and began to rise from the ground.

He moved so SLOWLY that it scarcely seemed as though he were moving at all,

but at last he stood on his feet…"
Like Dickon, who was TEACHING Mary how to move SLOWLY, my mother taught be the most valuable lesson ever:
That Good Healthy Growth happens
slowly and naturally over time. 
And that good things can't be rushed.
Because you can't rush a baby into adulthood,
anymore than you a rush a seed to flower,
and you for sure can't rush a relationship
from the pool straight to the proposal.
Like a good stew, good things take time to meld together. They need to simmer a bit.
Patrick and I simmered all right….for 4 years we simmered through fun times, challenges, travel, graduations, moves, internships, and more until we knew it was just right. Many times I wanted to speed things up, but looking back, the wait was well worth it.  And had I pushed it, rushed it, perhaps it wouldn't have grown naturally and rooted itself deeply like it did.
SIMMER DOWN.
I have to remind myself of this often, because I have a tendency to revert back to my old habit of being what my friend Kim calls a "Doer in High Drive". I can OVER-WORK things which might initially cause what looks like growth, but it's not healthy sustainable growth…and usually ends up in burn out.
Have you OVER-WORKED a relationship? Or RUSHED a dream too fast?
My girlfriends and I recently finished Priscilla Shirer's 
The Armor of God Bible Study
 together.
(I highly recommend it!)
During week 3 of the study, I put a HUGE HEART next to this quote in my journal:
"Babies don't need to work hard to change. They don't even need to concentrate on it.

All they need is to be well cared for. And when they are, the natural outcome is growth—

which automatically creates change. A baby that isn't changing, isn't growing."
Keeping this in mind with my relationships, dreams, and projects:
If I care for them in the way I know how –

by loving them, tending them, speaking life into them, being patient with them,

– they will naturally SIMMER SLOWLY into the goodness they are meant to be. 
Don't we all want that goodness, our goodness, to carry it's smell not only into the other rooms of the house, but out into the world? When your goodness is right, others recognize it RIGHT AWAY, the same way they know if you have stew in the crock pot.
DON'T RUSH IT or you might scare off your own dreams. 
I came home recently, almost high from speaking at The Wanted 
Campference
about how to tend your own personal Secret Garden to Full Bloom. I told my writing friend
Danielle Davies
how excited I was, because my speech was simply an outline for the book I have rummaging around in my head. The ingredients were all right there!
Then I wondered aloud to her, "Should I just go ahead and start REALLY writing it?"
As soon as those words tumbled out of my mouth…I felt something inside whisper my mother's words to me from more than 22 years ago:
"Take It Slow, Don't Rush It", she said. 
And just like the chapters of my relationship with my future husband, Frances knew all too well the conflict of when to write and when to dream and  let it "simmer".
The Secret Garden was a story that was not to be rushed. It's been said that she had been thinking about this book her whole life. Yet unlike with her other books,  she didn't just lock herself up in her den and write it. She let the story simmer for years before finally sitting down to put pen to paper.  I like to think she savored it with every rose she saw, garden wall she passed, or robin she heard chirping. 
So for now, I too will choose to SAVOR the Slowness, and let my writing, dreams, relationships continue to simmer on the stove, sharing "tastes" with you along the way through these blogs, knowing that if it naturally develops it will "come alive" like The Secret Garden….in full spectacular bloom.
"Slowly—slowly—

for no reason that he knew of—

he was "coming alive" with the garden."
 Moving gentle, speaking low and living SLOW,
FHB and Especially Me
P.S.
WAIT WELL..a late addition:
I sat down to do my Bible journaling this morning before I finished up this blog, and this was the first thing I read:
"WAITING WELL means staying PRESENT in the PRESENT
while LOOKING FORWARD to the FUTURE." -Wendy Pope
For us to move slow, let things simmer, WAITING WELL is important. Don't miss the yummy-ness of each step in this amazing life experience because you are too focused on the final outcome. WAIT WELL.
LET'S CHAT ABOUT IT:
What are you RUSHING and not letting develop naturally?
Are you scaring off your own dreams by moving to fast??