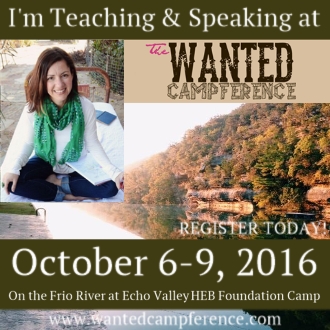 SPEAKING EVENT: The Wanted Campference
August 17, 2016
Pack Your Bags Girls…Let's Go To CAMP!
I am THRILLED to announce that I will be
TEACHING & SPEAKING
at The Wanted Campference
October 6-9th
on the banks of the Frio River
at Echo Valley HEB Foundation Camp!
It's 3 Days for
JUST US GIRLS

that will be all about:
NURTURING our weary souls
REFRESHING our thirsty spirits
And CONNECTING with others in a way that only "going to camp" can do.
Anyone else Weary and Thirsty???
I know I AM and I can't wait to CONNECT with you at THE WANTED CAMPFERENCE in October!
JUMP IN AND REGISTER TODAY BY CLICKING HERE!
Where is it?
The Wanted Campference is set in the beautiful Texas Hill Country on the headwaters of the Frio River at the H.E.Butt Foundation Camp.
I dare you to watch this video and not want to SIGN UP!
(Did I mention its only $100?)
What does a day at camp look like?
SATURDAY OCT. 8, 2016
6:30am Walk Talk Sunrise breakfast up at Antenna
7:00 Breakfast
9:00 Round-Up
9:30 Session 1
10:15 Break
10:30 Session 2
11:30 Break
12:00 Lunch
1:00pm Small Group Discussions
2:00 Rest Hour/ Activities/Me Time
5:00 Handmade Market
6:00 Esther's Banquet Dinner/ More Handmade Market
8:00 Concert
9:30 Refreshments on porch of Ranch House
10:30 Lights out in all cabins
ARE YOU READY SIGN UP YET? CLICK HERE

Why only $100?
Because of generous donors who know that YOU ARE WORTH IT and WANTED!
What will we do at Camp?
There will be Speakers, Small Groups, Hiking, Walking, Talking, Holy Yoga taught by the amazing Leslie Eastland, Swimming, Music, Fun Art Projects and Creative Crafting, and all the GIRLFRIEND time you can handle!
NOW ARE YOU READY SIGN UP? CLICK HERE
I know what you are already saying…
THREE DAYS…I just can't… but YOU CAN,
and YOU & your weary soul ARE WORTH IT!

Did I mention?
The amazing and talented  Susan Ashton will be there singing her heart out for us! Here is one of my favorite of her songs:

and come back home to your friends and family
REFRESHED & RE-ENERGIZED from The Wanted Campference
…ready to take on whatever comes your way. 
See you at Camp,
FHB and Especially Me
Let's Chat About It:
Never been to Camp? Do you have questions about Camp? Ask away!