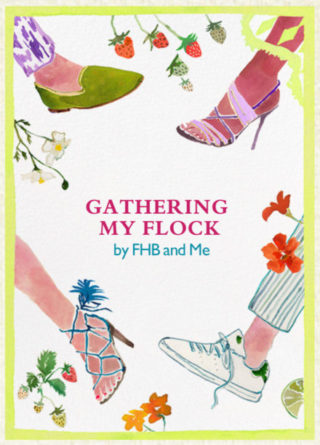 GATHERING MY FLOCK
May 28, 2018
"She looked an ugly, cross little thing and was frowning because she was beginning to be hungry and feel disgracefully neglected."
---
Here in Texas, school is finally out and summer is officially upon us! Woo-hoo!
MY TRUTH:
My "woo-hoo" is said with 1/2 joy and 1/2 dread.
Because summer means…
OUT goes the routine and predictability of the school year (which I love a little too much)…
and yet
IN comes the good stuff too like staying up late, sleeping in, ice cream, and frequent, impromptu trips to the river to swim.

 
Summer also means, at least for me, that…
IN comes summer, the time of year when ALL of my friends splinter off in a million different directions with camps, vacations, and such…
and
Sure, summer is exciting and fun at first, but after a few weeks…I begin to have serious hunger pangs for my people.
In the past, my list of why I didn't make time for summer get-together's at my home was ridiculously long: "it's too hot", "my house isn't clean", "it's too much work", or my favorite…"everyone is just too busy…no one would come"!
I don't want to make any more excuses this summer!
So when I was approached by Paperless Post to try out some of their products AND on the same day…my girlfriend said this…I had a major light bulb moment!
"Life seems to be getting more and more busy, and if we don't put something on the calendar now, we will never see each other."

-My Friend,  Maeve
THAT's IT! I will just plan some fun things for us to put on our calendars throughout the summer…to ensure we make time to get together.
Are you good at planning intentional time with friends?
Frances was a great example of this kind of planning. It didn't matter how busy she was writing or traveling, Frances would always set aside Tuesday afternoons to spend time with her friends.
And since not seeing my friends this summer…is NOT an option, I began to devised a plan…a gathering-of-my-flock kind of plan.
I LOVED TO ENTERTAIN…what happened?
When we were first married, my husband and I threw some epic dinner parties. This time, with friends, not only fed our bellies, but more importantly…it fed our souls.
Then came the big move in 2006, the no friends gap year of 2007, the too tired to cook toddlers years of 2008-2012, and then I think we just forgot how to think ahead and plan. Most recently, we seem to be relying more of a "shoot from the hip/last minute" kind of party planning to get us through…and it's not working so well to be honest.
Oh…planning…*GULP*.  I forgot about that part.
And just like that, my enthusiasm for this "Grand Summer Gathering Plan" was beginning to fade. So, I decided I should probably make a few quick rules for myself…before this gets way out of hand (like the "I'll create a Pinterest board for this party" kind of out of hand), or even worse it is swept under the rug and never happens.
MY SUMMER GATHERING RULES:
Keep It Simple, Yet Special (don't get crazy…the PEOPLE are the point)
Have Guest Bring Something to Share (to take the load off of hosting)
Be A Present Host (don't work the whole time)
For help with #1, I called on my new friends at Paperless Post, a company that helps you to create these fun, online invitations that make planning, inviting, and coordinating a cinch!
I had so much fun scrolling through their "Get-Together" invitations…many of which inspired these summer party ideas below. I even made most of these fun invites right on my phone with their app…it was so simple and easy to use!
So, while I am still sorting out dates, times and details…below are a few of the parties that I am hoping to throw this summer for my flock!
I hope they inspire you to plan some gatherings of your own this summer.
GATHERING IDEAS for COUPLES:
Crappy Dinner and Cocktails: Easy Peasy! Everyone bring something they can buy pre-made or purchased in a drive through, and we will supply the cocktails!
Grill & Chill: Bring Your Own Meat to throw on the grill and we will supply the sides and such!
Pizza & Pickin' on the Patio: Bring Your Own Guitar (or any instrument) and $5 per person for pizza delivery and we will supply the patio and adult beverages to loosen up your vocal chords!
GATHERING IDEAS for JUST THE GIRLS
ROSE' on the RIVER: Bring your own tube or float and join us after work for a little wine-ding down in the river together.
Cocktails, Conversations, & Crafts: Bring an appetizer to share and come ready to get crafty…while drinking cocktails of course!
Mother/Daughter Dance Party: Grab your girls and come for a night of Mother-Daughter fun, as dance instructor Rahsaan is coming to teach us some of the latest dance moves and a short routine! Bring a kid friendly snack to share!
---
Now…with just a little more planning, I think this summer is going to be a ton of fun. Thank you to my friend Maeve and to Paperless Post for the inspiration I needed to turn my summer frown…upside-down. Woo-Hoo for SUMMER!
Party On Feathered Friends,
FHB and Especially me