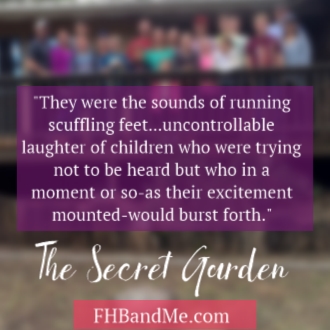 The Sound of Friendship
June 16, 2016
"They were the sounds of running scuffling feet…

uncontrollable laughter of children who were trying not to be heard

but who in a moment or so-as their excitement mounted-would burst forth."

-The Secret Garden, Frances Hodgson Burnett
21 of us total.  5 couples plus kids for 3 days headed into in the mountains this past Spring to celebrate the 40th birthday for one of our "tribe".
This was the very first time that we have all gone on vacation together WITH the kids. And let's face it, kids add a whole other level of stress to travel in general, but skiing tends to have its own set of complications.
The sounds of "Where are my?" gloves, hat, helmet, boots, jacket, goggles and the seemingly endless list of the things we will have to keep up with of theirs, not to mention ours was already ringing in my ears.
So it was with a little fear (I'm not going to lie) that we pulled into the driveway of this house that sleeps 26 for this mile marker of a celebration.
Were things lost, forgotten, left behind and then found again? Yep! Were there some sounds of whining and sheer exhaustion over the weekend? Of course.
But the thing is, it really didn't seem to matter. The music of our friendship and laughter drowned out the short fits of whining and tears, and JOY was the prevailing mood the entire weekend.
Now, I am by nature an early riser, which means I am also, typically the first person to poop out and head to bed. I am sure I miss some things, but I have learned not to fight nature or I will pay for it the next day.
So tucked in earliest each night, I would lay down and listen to this beautiful music like the ups and downs of the poker game that the men were playing (while teaching) with the boys the first night and then the little girls the next.
I smiled deeply as I listened to the chatter of my girlfriends sitting back at the dinner table stealing some well-deserved kid-less time with each other.
It was truly one of the best songs I had ever heard.
And as we headed home to start the laundry and sort out whose stuff got packed in the wrong bags, I was left wishing two things:
That I would have taken more pictures.
That I could have found a way to record that music of friendship that I know will be playing like the "best broken record ever" in my mind for long time.
To My Tribe: I pray I can keep that song in my mind and my heart for as long as possible until the next time we get the Band Back Together again to ROCK OUT to the music of our friendship.
To Me: I pray that I can learn to be still and quiet more often so I can listen with my heart for the music being made all around me every day.
LET'S CHAT ABOUT IT:
What is your favorite sound?
Are you listening close enough to hear the music around you?
This music is made when remembering old fun together, planning new adventures, and just being in the presence of those you love. Or by the hum of nature buzzing about, the wind racing by or kids giggling uncontrollably. It's the music of your life and mine. Isn't it beautiful?
Sh-h-h….do you hear it?
Rocking out to the sound of friendship,
FHB and especially Me