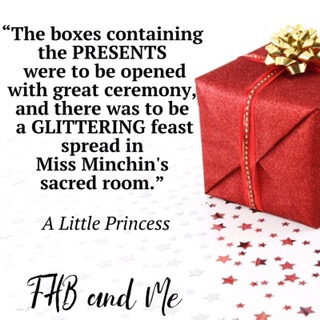 Give a Bit of Frances This Season
December 12, 2016
"The boxes containing the PRESENTS were to be opened with great ceremony,

and there was to be a glittering feast spread in Miss Minchin's sacred room."

A Little Princess
As I read this quote, I couldn't help but cringe a bit when I saw the words "GLITTERING feast." Clearly, Frances didn't know the agony of modern-day glitter. Once it arrives…it NEVER LEAVES.  I swear we still have glitter that shows its sparkly reflection on our floors from our daughter's birthday party 5 years ago.
I only know of ONE other thing that has the same staying power as glitter…and that is a good book. Toys will break, clothes will wear out, but words will stay with you forever.
"A book is a gift you can open again and again." -Garrison Keillor
And lucky for you, I happen to be related to an amazing and inspirational writer Frances Hodgson Burnett, who wrote a few good books that I can recommend to you…that anyone on your gift list would LOVE to receive wrapped up with a big ol' bow!
GIVE THE GIFT OF ONE OF HER MOST FAMOUS BOOKS
Each of these are SURE WINNERS to give anyone from 7 years old to 70!
FOR THE SECRET GARDEN SUPER FANS:
You know they have THE BOOK for sure…but do they have these?
GIVE BEYOND THE BIG THREE
Know someone who has already read and loved the big three? Then look BEYOND The Secret Garden and wrap 'em up several of her other books. With over 50 titles to choose from, you can't go wrong!
CLICK HERE to see the full list.
BIOGRAPHIES ARE THE BEST GIFTS
Her life was one of the best stories ever written.  There's money, drama, adventure, intrigue, fashion, famous friends, lawsuits, generosity, exotic locations, death, beauty, divorce, successes, failures…and of course a bit of earth.
So, tune them in below for the rest of the story from one of her amazing biographers!
THE FINE PRINT
When you buy from these Amazon links, I get a very small percentage of the sale, but please support your local independent stores FIRST!
These suggestions should help make quick work of your shopping list so you can spend more time with eggnog and your festive friends. You are VERY welcome. 😉
Hoping you each receive GIFTS THAT STICK LIKE GLITTER this year,
FHB and Especially Me