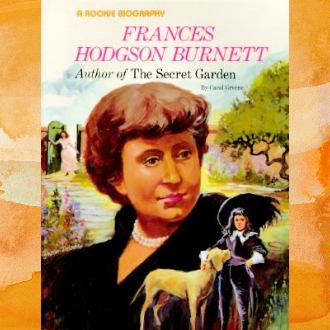 Frances Hodgson Burnett: Author of the Secret Garden by Carol Greene
June 9, 2016
From School Library Journal
Grade 2-5-During her lifetime, Frances Hodgson Burnett was well known as a writer of formula romances and pot-boilers. This biography, with its controlled vocabulary, short-short paragraphs, and numerous photos and illustrations, emphasizes her love of gardens and the events in her life that were translated into The Secret Garden. Unfortunately, except for the table of contents (which most children won't read) and the chronology at the end, not a date is mentioned until Burnett was married in 1873. Thus, readers will have no idea of the time period-not even which century they are reading about. Photo captions have dates ("Manchester, England, in 1885"), but it is not stated how they relate to the subject. Illustrations switch from black-and-white photos to reproductions to dreamy full-color illustrations as Burnett enters a garden near her home, thus capitalizing on the success of the film. Angelica Carpenter and Jean Shirley's Frances Hodgson Burnett (Lerner, 1990) is a meatier selection for children who have read the classic novel.
Pamela K. Bomboy, Chesterfield County Public Schools, VA
Copyright 1995 Reed Business Information, Inc.