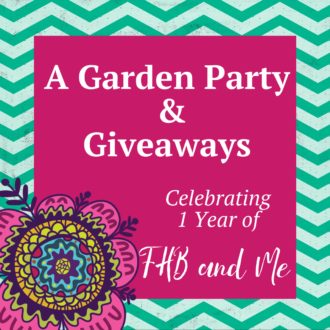 A Garden Party and Giveaways
June 13, 2017
"The birthday was to be celebrated with GREAT festivities."
Next week is the 1 Year Birthday of FHB and Me! (I can barely believe it.) So to celebrate, we have planned not one, but TWO (2) GREAT FESTIVITIES!
THE IN-PERSON PARTY:
What better way to celebrate One Year of FHB and Me, than with a party in a GARDEN?
To say THANK YOU for all of your support, we want to invite you(YES YOU) to circle up your spouses and friends and head to THE MARKET in Hunt on Thursday, June 22nd from 6-8pm for some Secret Garden Fun!
The SOCIAL MEDIA CELEBRATION:
Can't make the party? We still want to say thank YOU for reading along and becoming one of our "Friends for Sure" over this past year.  See below for 3 ways to win FHB AND ME SWAG like The Secret Garden & A Little Princess themed hand-crafted jewelry from A Bookworm Creates and Larking , plus books by FHB and more!
3 WAYS TO WIN:
1) ENTER YOUR EMAIL BELOW and click SUBMIT to be entered to win and also receive our weekly blogs directly into your inbox!
2) SHARE any of our FHB and Me Instagram or Facebook posts (new or old) between Tuesday June 13th and Thursday June 22nd(our actual Birthday) and receive one entry per post shared.
3) LIKE & FOLLOW FHB and ME pages on all SOCIAL MEDIA BELOW before June 23rd and receive one entry into the giveaway for each!
Simply click on the links below, then Follow or Like our Page when there!
Do you already follow us? Then SHARE and SUGGEST OUR PAGES to your friends for your giveaway entry!
FINAL NOTE: Drawing will be held on June 29th and all winner will be contacted at that time.
We are so humbled by this milestone and are sending big virtual hugs out to each and every one of you for making this year such an amazing journey!
Sincerely,
FHB and Especially Me