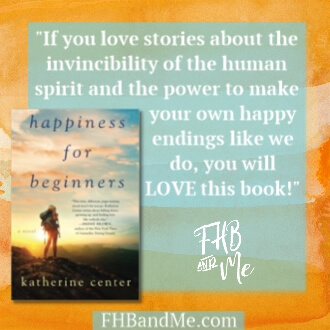 BOOK REVIEW: Happiness For Beginners
November 17, 2016
Frances LOVED a happy ending. She was always frustrated with the critics who would take writers more seriously if their book ended sadly.
She insisted, "There ought to be a tremendous lot of natural splendid happiness in the life of every human being. The acceptance of the belief that this is only a world of sorrows is hideous and ought to be exterminated."
She also claimed, "I do not think anyone has ever existed who so strenuously, passionately insisted that people should be happy as I do."
Well Frances, I think you have met your match in Katherine Center. Her books are full of stories about how bad stuff happens just so you can find your own way out of the darkness and into the light of joy and happiness. They usually end with those "Stand on Top of the Mountain" moments that we all love and leave you cheering for not only the characters, but for yourself in the process.
Buy It, Eat It Up, and Let it Feed Your HAPPY SOUL:
Happiness for Beginners
"Could she change the story of her life?
It was time. Helen Carpenter knew that. Thirty-two and divorced for a year, Helen knew it was time—past time—to pull herself together. She needed to do something wild and adventurous and completely out of character. Which is why she signed up for a wilderness survival course in Wyoming.
Thus begins the strangest adventure of Helen Carpenter's well-behaved life: three weeks in a remote mountain range where she will survive a summer blizzard, a group of sorority girls, rutting season for the elk, and more than one infuriating man. Yet, despite the hardships and the indignities, the mountains bring their own wisdom to Helen's life, somehow teaching her the very things she needs to learn. Like how to stand up for yourself. How being scared can make you brave. How the things you hold on to become the story of your life. And, maybe most of all, how sometimes you just have to get really, really lost before you even have a hope of being found."
To learn more about this talented author and her other books  CLICK HERE.
LET's CHAT ABOUT IT:
Have you read it? Did you love it as much as we did? What's your favorite part or quote?