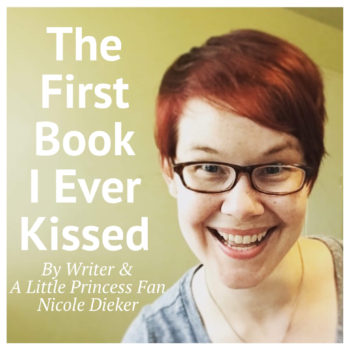 GUEST POST: The First Book I Kissed
October 17, 2016
Preface from Keri Wilt, the "ME" in FHB and Me:
When I tell someone that I am the great-great-granddaughter of Frances Hodgson Burnett, author of books like The Secret Garden, Little Lord Fauntleroy, or A Little Princess, there are a few common reactions that take place. 
Men, many times, will scowl at me and recount the time that their mother sent them to school in "nickers" or Little Lord Fauntleroy pants, which typically resulted in some sort of playground fight and a trip to the principal. 
Women will usually squeal with delight, yell to their nearby friend ,"Jackie…you are not going to believe who she is related to!", and then they will go on to tell me "their story". Stories of how this book saved them, gave them hope, inspired them, wired them, and so much more are poured out…time and time again…right in front of me. And secretly, I LOVE IT, because it reminds me of how powerful words are…that mere words can change a life.  
One of my goals when I began FHB and Me, was to share these stories, YOUR STORIES about how Frances and her words have changed you.
 So when I stumbled across an article online written by our VERY FIRST guest Nicole Dieker titled…
What Children's Literature Teaches Us About Money:

Frances Hodgson Burnett's 'A Little Princess' 

This book inspired way too many of my life philosophies
…I knew I had to ask if she would tell her story here. Graciously she said yes, and I am forevermore grateful. 
Please enjoy and follow her other writing by clicking on the links at the bottom of HER STORY!
Read on,
FHB and Especially Me
P.S. While I cannot confirm it, I would think the first book Frances ever kissed, was one called Granny's Wonderful Chair by Frances Browne, which she won as an award at school…even though it was far too advanced for her age.
---
The First Time I Kissed a Book
by Nicole Dieker
The first time I found a copy of Sara Crewe: or, What Happened at Miss Minchin's at a library, I kissed it.
I was almost eight years old and my parents had just given me a copy of The Secret Garden so I would have something to read on the long drive as we moved to a small town in rural Missouri; all I wanted was to read more of Frances Hodgson Burnett's stories, and this new library in my new hometown had Sara Crewe.
That was not the only library book I've ever kissed, but it was the first one. Asking where I could find the full copy of A Little Princess became my first experience using inter-library loan. Libraries—and librarians—had always been pivotal to my literary education, and it seems appropriate that the book I would call "my favorite" for years to come was so closely linked to an expansion of my library privileges.
Because Sara Crewe loved books. More specifically, she loved stories—reading, writing, and telling them—and my pile of handwritten stories was nearly as large as my stack of library books. I would read or tell or create stories with anyone who would let me, and I loved knowing that there was this other person out there that was just like me, even if she was part of a story herself.
Sara was also smart. This was hugely important to me, because I regularly sat down at my desk already knowing whatever math or spelling lesson the teacher was about to give, the same way Sara walks into her elementary French class already knowing French. I was an advanced reader and an advanced writer and I liked to spend time alone just thinking about things. Sara was all of this as well, and instead of being relegated to the role of brainy sidekick, she got to be the heroine.  
So as Sara spent her years in the attic imagining she was a princess (so she could behave like one),
I spent my early years in school imagining I was Sara. Sara would do whatever task was set before her without complaining. Sara would be generous and kind. Sara would look for ways to help other people. I was an eight-year-old girl and not a literary heroine, but I did my best. After all, in twelve years I would be twenty!
When I was in my early twenties, working a series of low-paying jobs while wearing ill-fitting clothing and coming
home to a poorly heated apartment, Sara was not far from my mind. She carried heavy baskets up and down the streets; I pushed a heavy cart stacked with copier paper up and down hallways. (One of my responsibilities, at this job, was to make sure all of the constantly-running copy machines were filled with paper—which meant I spent hours pushing the cart.) Yes, my comparing myself to a scullery maid in Victorian-era London was about as melodramatic as Sara comparing herself to a prisoner in the Bastille, but thinking of Sara reminded me to do all of this work with keen eyes and a pleasant demeanor.
Sara also reminded me that I could keep learning. I would sit in an empty, windowless room stuffing envelopes and I would recite poetry to myself, and then I would go back to my apartment and read whatever book I had checked out from the library.
Now I'm a writer, which I'd like to think that Sara would have been if she hadn't become an heiress. I've made my own fortune, as it were, and I live in more comfortable circumstances. I recognize that so much of my own success, like Sara's, comes from privilege—even from privileges as simple as having parents who took me to the library and encouraged me to talk to librarians. But I'm still glad to have had Sara as a model: to teach me how to work, how to keep learning, and how to give back.
A Little Princess is still one of my favorite books. It always will be.
---
Nicole Dieker is a Senior Editor at The Billfold, where she recently featured A Little Princess in her weekly column "What Children's Literature Teaches Us About Money."
She is writing a novel about growing up in the rural Midwest titled The Biographies of Ordinary People, which you can follow and support on Patreon.  
CHECK HER OUT! (Did I mention she is also a crazy talented singer?)
---
Do you love Frances and her Books too?
How did they move you, change you, or even rescue you?
Did her words speak to you? What did they say?
These are the stories we want to share on FHB and Me! The stories about how mere words can impact a person. We can't wait to read them and perhaps, with your permission, share them with the rest of the FHB and Me family so they can be inspired too!
Put your stories in the comments section below, or CLICK HERE to email them directly to us!