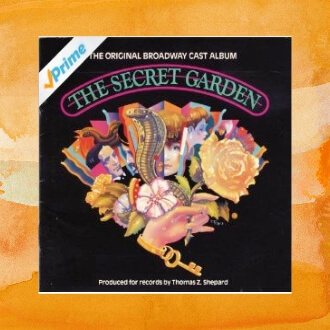 The Secret Garden Musical (Original Broadway Cast Recording)
June 9, 2016
One of the standout Broadway musicals of the last part of the 20th century, The Secret Garden boasts a great source (Frances Hodgson Burnett's classic novel), a wonderful score by Lucy Simon, and a superb cast. From the opening exotic sounds of the cholera outbreak in India which leaves young Mary Lenox orphaned to the (admittedly somewhat schmaltzy) finale of "This, my lovely child, is your garden!" the score swirls and soars in a magnificent musical tapestry. Almost universally consistent accents (an extreme rarity in Broadway theater; kudos to the dialect coach) are instrumental in helping establish the "feel" of the piece, and the dark Yorkshire moor where the majority of the action is set.
The cast features the youngest Tony winner to date, 11-year-old Daisy Eagan, who plays Mary Lennox to perfection. Rebecca Luker's glorious soaring soprano makes Lily's ghost songs heartbreakingly ethereal, and even Mandy Patinkin's usual histrionics don't detract a bit from his powerful rendition of the disfigured, disturbed, and perpetually mourning Archibald. The supporting cast is equally superb: Alison Fraser performs "Hold On" and "Fine White Horse" with warm wit and tenderness, and John Cameron Mitchell (now perhaps better known for Hedwig and the Angry Inch) has an impish tone as Dickon, with the standout solos "Winter's on the Wing" and "Wick."
The recording wisely includes a substantial amount of dialogue to supplement the score, making it possible to understand the show fully, even for those who haven't seen it (or, like me, saw it almost half a lifetime ago). Complete lyrics, and a solid, concise plot synopsis further enhance the package. A solid addition to any musical theater fan's collection.