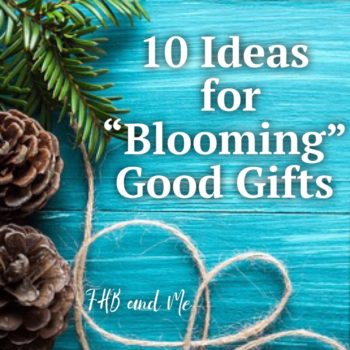 10 Ideas for "Blooming" Good Gifts
November 27, 2017
"Is there anything you want?" her uncle asked,

as if a sudden thought had struck him.

"Do you want toys, books, dolls?"

The Secret Garden by Frances Hodgson Burnett
Mary's answer was easy…she simply told him that she wanted a "bit of earth…to plant seeds in—to make things grow—to see them come alive."
Great! It looks like we can check her off the gift list then…but now what do you get for the rest of your friends and family this holiday season? The answer is not always easy, is it?
While I might not be able to help with gifts ideas for everyone…I can point you to some unique items that are bound to bring smiles this holiday to anyone on your list that is a fan of my great great grandmother's most famous classic, The Secret Garden.
See below for 10 Secret Garden inspired gift ideas that will sure to grow great big smiles on the faces around you!
Note: I do receive a small commission off of the items listed in #1 on Amazon & in my FHB and Me Cafe Press Shop in #2. All other items were found while perusing my favorite place to shop online…Etsy.com and this items are not affiliated with FHB or Me…but are being featured solely because they are things that I fell in love with and would love to give or receive this holiday. 
HAPPY SHOPPING! 
---
GIFT IDEA #1: OTHER BOOKS BY FHB and ABOUT FHB
If they loved THE SECRET GARDEN, then help them branch out! I happen to know that the same amazing and inspirational writer Frances Hodgson Burnett, who wrote The Secret Garden, also wrote a few more good books (like 50+)…that anyone on your gift list would LOVE to receive wrapped up with a big ole bow! Or consider giving one of the fascinating biographies written about her.
CLICK HERE for a complete list of books and biographies!
---
GIFT IDEA #2: INSPIRED BY HER, BUT DESIGNED BY ME 
FHB's words are one of the best gifts ever…so I have taken three of my favorite quotes from The Secret Garden, and put them on anything from shirts and mugs…to pillows and such. See below for just a few examples!
Then CLICK HERE to see ALL of the things for sale in my simple FHB and ME shop!
---
GIFT IDEA #3: THE SECRET GARDEN BOOK PAGE JEWELRY
How about a necklace? It's a one size fits all that will keep the words of The Secret Garden close to their hearts..and the packaging is divine!  CLICK HERE for this and other bookish jewelry by Larking. (pictured below)
Or how about some earrings to remind them that the magic inside the garden…is inside of them too!
CLICK HERE for those!
Or perhaps the words and sentiment of the season will "ring" more clearly with this choice! CLICK HERE  to check out the one size fits all book page rings that come in a beautiful antique gold and silver!
---
GIFT IDEA #4: LITERARY LEGGINGS
Seriously…how cute are these!  Your bookish friends & family will love to find these under the tree or in their stockings! CLICK HERE to order and for size suggestions.
---
GIFT IDEA #5: INSPIRATION FROM THE GARDEN TO YOUR WALLS
Her words alone were some of the greatest gifts that she gave…and now you can give them too! Just search "The Secret Garden Quotes" on Etsy or CLICK HERE to see  over 100 beautiful and unique pieces made with her quotes!
---
GIFT IDEA #6: IT'S NOT JUST A CARD…IT'S A LIBRARY CARD
Kick it 'old school' with this library card replica of The Secret Garden. Can't you just smell the card catalog? CLICK HERE for details on this fun gift!
---
GIFT IDEA #7: A CUSTOM SECRET GARDEN SIGN
Oh how I love this! Imagine this on the wall of their bedroom, on a shelf in their office, or on the fence of their actual garden!   CLICK HERE to get a custom one ordered TODAY!
---
GIFT IDEA #8: FOR QUITE A CHARACTER
Give someone the gift of a beautiful illustration of one or more of their favorite characters! Find these and more on Etsy…but click on the links below for these two fun pieces!
CLICK HERE for sweet Mary & Dickon below!
CLICK HERE for more info on Mary here in her Garden of Miracles above!
---
GIFT IDEA #9:  THE SECRET GARDEN BOOK PAGE ART 
This artist placed this Vintage Skeleton Key to the Secret Garden over a Vintage The Secret Garden Book Page, mounted it under an 8×10 creamy white mat with an inner black border, creating a unique one of a kind piece of artwork!
 CLICK HERE to order!
---
GIFT IDEA #10:  THE SECRET GARDEN…STAMPED 
These sweet hand-stamped bracelets will help them quote The Secret Garden "off the cuff". 🙂
 CLICK HERE to order from A Bookworm Creates!
---
GIFT IDEA #11: THE SCENT OF THE GARDEN
Ok, I know I said only 10, but I had to include this one at the last second! This candle, inspired by "The Secret Garden", blend elements of fresh cut grass, summer florals, orange and sandalwood. Your friends and family will be transported back to the 20th century English countryside with this magical candle. Pair it with a vintage or new edition of  The Secret Garden book for the best gift EVER!
---
Simply Shopping…Secret Garden Style this Season,
FHB and Especially Me