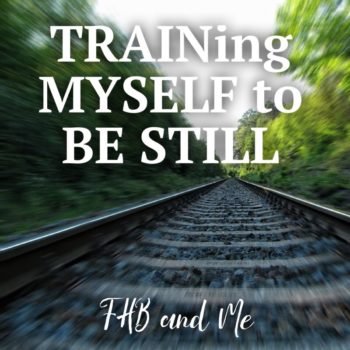 TRAINing MYSELF to BE STILL
April 16, 2018
"She began to make a low, whistling sound–

so loud and coaxing that

it could ONLY have been heard in entire stillness."

–Frances Hodgson Burnett, A Little Princess
---
My head hit the pillow hard the night I arrived. After a 6.5 hour drive from home and settling in for the week, it was almost 11:45pm when my bed began to shake and the walls started to rumble.
"The train!" I recalled, smiling at the familiar sounds as I waited for it to pass.
I had pulled into Baili Teal Farms around 2pm that afternoon and went straight into the retreat room to claim my spot. You see, my mother is a scrapbooker, and several times a year she hosts a weekend where she and 15-20 fun and creative women get together and work on their various photo projects. I try to tag along as often as I can for the homemade snacks, girl time, and a quiet place to tuck away and write.
In all the busyness that afternoon, I had completely forgotten about the train tracks, directly across the street. This train, and all of its friend trains, are a part of the charm and landscape of this special place. What shakes you the first night, becomes soothing the next, and in only a few days time, becomes so familiar that you don't even notice it anymore.
"I hear the train a coming, it's coming round the bend.

And I ain't seen the sunshine since, I don't know when."

-Johnny Cash
The last morning I woke up early, grabbed my cup of coffee and my journal, and headed out onto the porch for some quiet time. I was only a few minutes into my journaling, when a train roared by. It was so loud that I couldn't even think straight, forcing me to put down my pen and simply wait until the distraction zoomed by.
"Wow that thing is crazy loud!" I thought to myself.
Still on the porch one hour and 4 trains later…it occurred to me that since my arrival 4 days earlier, there must have been more than 300 trains that have screamed by here, less than 100 yards away. And yet I ONLY heard a handful when I was in, what Frances in A Little Princess called, "entire stillness".
I decided to stay on the porch until the next one that passed, taking the time to really "listen" to the sounds of it, soaking in each car…unique in it's shape, color, and graffiti art. And as the caboose came into sight I smiled, watching it push the others cars onward.
Then my heart whispered…"If you missed 295 blaringly loud freight trains passing by…what else are you missing as it barrels loudly through your days?"
I heard them when I slowed down at night and in my morning quiet times, but what am I missing in the middle?
I have been diligent over the past few years, to make time each morning and before I go to bed for stillness and quiet.  But today was a reminder, to find more pockets of quiet IN my days, in order to truly see and hear the lead conductor in my life.
"Wisdom is always speaking to us, but it doesn't yell.
So we have to get quiet enough to hear it."
And since quiet and stillness don't typically come natural for most of us, I went in search of a few ways we might find bits of stillness in our days.
It's time we TRAIN ourselves in the Art of Stillness with ideas like these below!
LOOK for opportunities to sneak in brief moments stillness and quiet. In your car, in the shower or bath, in the kitchen while making your tea, in your office or even while on an elevator…soak in the stillness of that moment and listen for the truths your heart is whispering.
PLAN for stillness and leave margin in your day. Richard Swenson, MD wrote in his book titled Margin, that "Margin is the opposite of overload". So under-load your schedule and leave extra time and space in your day, 10 minutes here, 30 there to just be still.
Get quiet with nature. Go for a walk, wander onto your porch, or simply look outside through your office window to give  your eyes and mind a place to rest and be still. Perhaps even focus on a tree, a leaf, a squirrel, or a beautiful rose in bloom. Life coach Carla Robertson said when interviewed for A Beautiful Morning, a new book by Ashely Ellington Brown, "Connecting with nature is my favorite thing to do. When I do this, I'm not meditating per se -I'm observing nature and sitting in wonder."
Stillness opens the door to wonder, and wonder opens our heart to so much more.
Seeking stillness and strength together,
FHB and Especially Me
P.S. For more ideas of "How Stillness Can Empower Your Every Day", watch the below interview with Glennon Doyle on OWN.