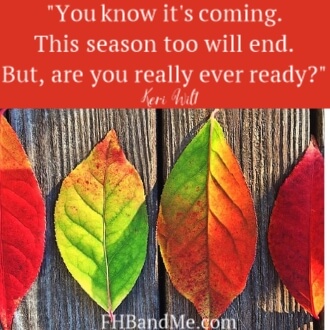 Seasons Come, Seasons Go
August 22, 2016
"Has tha' begun tha' courtin' this early in the SEASON?"

Ben Weatherstaff, the gardener said to the robin in the Secret Garden.
The first day of summer is the BEST! No more rushing around the house trying to get the kids off to school. The pace slows in our house and I cherish it. But like all good things, this too must come to an end.
The summer season is over here in Texas, the kids went back to school today. And it got me thinking about seasons.
You know it's coming…the season will end, but are you really ever ready?
Last fall, Downton Abbey's final episode aired. The season, and the series was officially over. I knew this, not because I watched it, but because social media the week after was filled with depressed friends now launched into the black hole of: "I can't believe it is over. What now? How do I go on?"
I knew my parents had watched this show every Sunday night with friends, so like a good daughter, I called my mother to ask if she too was depressed. (Ok, and giggle a little if she was.)
She laughed a bit then said that because she had known it was coming…she was ready for it, and since the characters all been paired up together in love…she was good!
Whew! Instant relief. Because if she was depressed, after I giggled, I was not sure what the cure for that would be? Tea party therapy? English accent lessons?
Seasons end and new ones begin so many times throughout a life.
I just finished my "too many things on my plate to breathe season" and I am currently in the throes of what I like to refer to as my "mid-life-I always wanted to be a writer-so let's do this" season.
And I don't have to tell you, new seasons can be scary as you enter into the unknown.  Ending seasons can be just as hard.
I vividly remember standing on the sidewalk at the Sun Ridge Apartments in Nacogdoches watching my parents pull away with all of my belongings after college graduation. I just stood there and started to sob.
I was excited about graduating! I had done it. But still something inside me was sad about this "season" of my life coming to an end. No more deciding in the morning whether I should actually go to class or skip to watch decorating shows on HGTV. No more familiar college life routine: Sleep in, go to class, hit the gym, take a nap, go out, home safe, sleep….then repeat.
But in each season, the very hard "two kids under 5" season, the "building a business" season, or the "leaving home and moving to the country" season, I did my best.  Some I just barely survived, while in others I thrived. But each taught me how to be a better version of me. More humble, less fearful, more confident, less needy, more positive, less critical…like a rock being polished by the river.
So what if you knew you were in your FINAL SEASON of life? Would you live it any differently?
I have recently come to the realization that my parents, both in their mid-70's, are in their final season of life. The season where your friends die unexpectedly, forget who they are, fall ill or lose their ability to be independent.  They too will experience this themselves first hand, right before my eyes.
I know it's coming: Their final episodes.
I looked up the average life expectancy in US: 79.56 years old. My mother is generally healthy and active.  My father has had everything that should have killed him by now, but hasn't, and he too is now generally healthy and active. But they will not be immune to this final season.
And how do you properly wrap up a final season in life? Traveling the World, Giving of Yourself, Speaking into Others, Laughing Often, Loving More, or Checking off Bucket Lists?
I love how the Masterpiece Theater's Facebook post promoted the final episode of the Downton Abbey season:        "In the end, LOVE really did conquer all".
It's true, that no matter the season…LOVE really does conquer all.
LOVE got me through the "terrible 2's" season.
LOVE got me through "no friends in a new town and a brand new baby" season.
And LOVE will get me through my parents "final season" too.
The Beatles knew it: "All you need is love".
God knew it, dedicating a whole chapter of 1 Corinthians to LOVE.
"For now there are Faith, Hope and LOVE. But of these three, the GREATEST IS LOVE." 1Corinthians 13:13
Heck, even the "cheeky little Robin" in The Secret Garden knew that LOVE was always in Season.
The truth is, none of us ever know when our show will be canceled. And if we are all so lucky, we will make it to my parents season and look back and a life well lived and a life well LOVED.
And when the credits roll on my parent's final episodes, when I wipe away the tears, I will rest in the peace of knowing their lives were FULL of LOVE.
My hope is that today we will all FOCUS on LOVE, LIVE in LOVE, GIVE in LOVE, SPEAK in LOVE, and WALK in LOVE no matter the season we are in.
Love conquers all,
FHB and Especially Me
P.S. This blog was inspired by the below excerpt that my Mother shared with the girls of the family in an email.
Proverbs 31 email on 3/9/16:
"But I do know we should walk boldly into the seasons that God allows, trusting that He will show us how to maximize each moment we have there."
Dear God, I don't know how to handle the season I'm in. Please show me how You would have me to operate in this place and give me strength to move forward in a way that brings You glory. In Jesus Name I pray. amen.
Here is a link to the full devotional: http://us2.campaign-archive1.com/?u=f63562b3be485ea0ae33acf18&id=f5df2c4c10&e=602d467be4
LET'S CHAT ABOUT IT:
If you knew this was your final season, how would you live today differently?
Comment below!