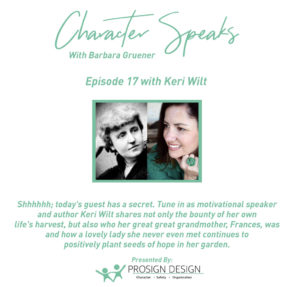 My First Podcast Interview
November 13, 2018
I HAVE SOME EXCITING NEWS!
If you follow me on social media, you may remember seeing a photo of me recently inside my closet. I was in there because I was being interviewed by the lovely author of What's Under Your Cape, Barbara Gruener for her podcast called Character Speaks. When she originally asked to interview me, I immediately called my friend who does voice-over work for advice, and he said, "Get in your closet for the best sound!" So, I did.
AND NOW…I am thrilled to announce that my episode is NOW LIVE!!
Click Here to listen in!
Blessings and Blooms,
Keri Wilt (AKA, ME)