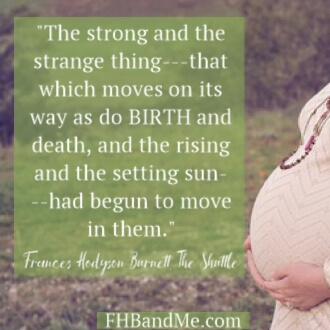 I'm Pregnant, Really Pregnant
June 1, 2016
"The strong and the strange thing—

that which moves on its way as do BIRTH and death,

and the rising and the setting sun—had begun to move in them."

-Frances Hodgson Burnett, The Shuttle
Cue the "ugly cry".
Why does it sneak up on you out of nowhere? You are telling a perfectly good story when this unexpected emotion hits you like a wave smacking the shore. You try to open your eyes as wide as you can to keep the tears from falling, but it's no use…the emotion has taken over and so you just have to ride it out.
This happened to me recently while having some professional pictures taken for the website launch. I was cross legged on a day bed with my computer in front of me, my bible journal open, several FHB books about me, pretending to work when I told Bella to stop shooting!  I called for my friend Kim to quickly grab my Consuela bag because something was missing from this picture!
She handed me my bag and I slid out a sketch pad. I opened it to the first page and rubbed my hand over the brightly colored brainstorm circles and lines as I began telling the story of how FHB and Me was conceived on this very page…
I didn't even get two sentences in when the ugly cry came.
I am CRYING in the middle of my photo session!! Stop it Keri…just STOP IT!
I look up at Bella, who despite the tears is still snapping away and say "Oh my goodness I am so sorry!"
She pulled her camera away from her face long enough to say matter-of-factly, "No worries, you are birthing a baby Keri! The emotion here today feels the same as it does when I am with parents in a delivery room."
(Insert mind explosion here)
I hadn't ever really looked at it that way before, but she was exactly right, I WAS HAVING A BABY.
So, like an experienced 2 time mother, I began my Lamaze breathing techniques immediately, "Hee-Hee-hoooo, Hee-Hee-hooo," and the tears came to an abrupt stop.
Finally, I was able to finish telling them about "THE DAY" I came home from an energizing and inspiring week at Lucky Star Art Camp and told my husband that I needed to follow this path God keeps clearing for me. When he told me, without hesitation, that he agreed and to "GO FOR IT", I sat down with my sketch pad and "conceived" FHB and Me. When I finished this feverish and exciting brainstorm session, I set down my pencil and highlighters and knew.  I knew in that moment…that it would be born.
And as this "FHB and ME" baby develops, I can see the arms and the legs and the fingers, but I still have no clue about so many things: Will it have red or brown hair, Will it be outgoing and spirited or an introvert I have to coax out from behind my leg? Will it be an easy baby and a rough teenager? What will it grow up to be?
But just those words, "You are birthing a baby", gave me some grace with this whole processes.
I now remind myself frequently of these things I learned when pregnant with my 2 REAL BABIES:
A baby is not made overnight, but it is grown over 10 months, so BE PATIENT and let it develop naturally.
Emotions are OK, FEEL THEM…DON'T EAT THEM or they will give you stretchmarks.
There will be sleepless nights, so REST WHEN YOU CAN and when you can't…WRITE!
Take LOTS OF PICTURES along the way, because you will have wished you did later.
DO NOT BE AFRAID, it comes out a baby, not a teenager.
ENJOY THE PREGNANCY, you only get a few opportunities to experience this in a lifetime, and it's magical. (but know that sometimes the bubbles you feel and think are movement…are just gas)
Becoming a Mom for the first time or the fifth, is such an exciting time in life and I can't wait to watch FHB and Me grow up, with all of you cheering her on as she takes her first steps.
But I still have some pressing questions about this "project pregnancy":
Who's throwing me a baby shower?
Will they have those little pillow mints that I love so much?
Will my husband gain sympathy weight or indulge my late night cravings for Ben & Jerry's ice cream?
Until next time my friends,
FHB and especially Me
P.S. Twice in the last week, I saw an Axis Deer and a Cow in a field literally minutes after they had given birth to their babies. These are those God moments when I smile and know that He also sees my "project pregnancy" pains.  I am also reminded that if they can give birth out in a field without any help, I can certainly make this FHB and ME thing happen while surrounded by all of you!
P.S.S. The Merriam-Webster dictionary definition of the verb "DELIVER" as:
-To Set Free      -To take and hand over      -To give birth to     -To speak, sing, utter       –To send to an unintended target or destination    -To come through with
I love these as they remind me to: to set this project free, hand it over to God,  endure the pain of birth, sing HIS praises for the big and small victories, remember that I may never know who will be effected by this project, and that by walking hand in hand we may all come through this better on the other side.
LET'S CHAT ABOUT IT:
Are you pregnant with a project?  Are you ready to deliver?  What things in your life have you given birth too? Can you relate? Comment below!