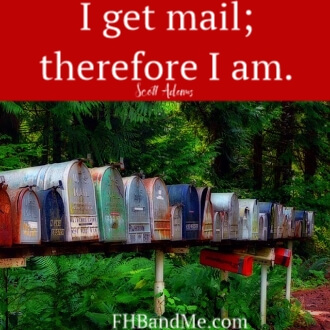 Happy Mail and Calling Cards: Moo-Yeah!
July 27, 2016
I LOVE MAIL!
I really do. Frances wrote letters daily to friends and family, but besides a few magazines and bills, my mailbox is quite lonely these days. So when this package poked it's head out, I squealed with delight!
And, you know it's going to be a good mail day when the sticker on the outside says Yay!!
I skipped inside, sliced open the package with the bread knife that was left on the counter still covered in butter, and what did I find?
Inside was a white box with a note that said "You Seem Really Fun".
UM YES! Clearly they have heard about me…the FUN Mom. 😉
I then opened the white box, that also shouted Yay!, and guess what I found…
beautiful stacks of freshly printed calling cards…WITH MY NAME ON THEM!!!!
They were tucked in the box so nice and neat that I marveled at the order of it all. I stood there in silence breathing them in.
OMgoodness! There is nothing like seeing your name and title on a business/calling card to make you feel official.
And here it was in full color shouting

"Yay! It's officially official"…I am really doing this.
I wonder if this is what Frances felt like the first time she saw her name in print when she was only 18.
I may never know that, but I do know that Frances used calling cards, and even had some printed up with her married name: Mrs. Swan M. Burnett, months before their actual wedding. She was also very social and held Tuesday afternoons open for time with her friends no matter which side of the pond she was on at the time. I would give anything to thumb through the stacks of calling cards that she racked up on her front hall tables.
According to Days of Elegance.com
"In the day of genteel manners and formal introductions, the exchange of calling cards was a social custom that was essential in developing friendships. The custom of carrying calling or visiting cards began in France in the early 1800's.  It quickly spread throughout Europe, and then became vastly popular in the United States, especially the New England area from 1840-1900.  Calling cards were carried primarily by the "well-to-do" ladies who made a point to go calling on friends and family on a specified day of the week or month, depending on their location and proximity to neighbors. The gracious reserve of a simple calling card is a gentle reminder of one's presence, and the care poured into a finely crafted card is a welcome courtesy."
Unfortunately, I am unaware of any of her cards that survived, so it left me to ponder what her calling cards would look like. Based on what I know of her, they would definitely have roses, and birds, specifically at least one Robin, and a quote of some kind. Perhaps something like the below.
I may be right or I may be wrong, but this I know:
My new cards are just another part of this big adventure we are on together,

You, Me, and FHB. 
Enjoying the ride,
FHB and Especially Me
PS. I designed my new cards and had a great experience with MOO.com. If you are in the market for some new cards…check them out at this link: https://www.moo.com/share/sjhd9k