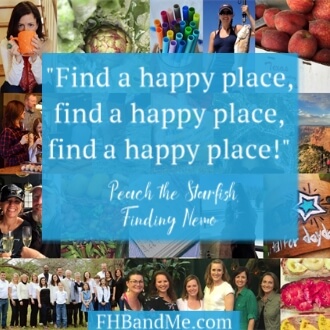 Find A Happy Place: The Power of Positive Thinking
September 13, 2016
When Darla taps violently on the fish tank, Peach the starfish exclaimed,

"Find a Happy Place, Find a Happy Place, Find a Happy Place!"

(original quote is from Dumb and Dumber, 1994, vs Nemo 2003…who knew?)

This is often quoted in my family when one of us is about to do something scary…like jump into our very cold spring fed river for the first time in the early Summer. I do my level best to take my brain to somewhere warm!

I also have to jump in quickly! Because the longer I stand at the edge, I can…in my mind…take the water from being just cold to completely unbearable in a matter of minutes, effectively talking myself right out of the river fun for the day.

It's amazing how powerful the mind is!

Frances wrote in The Secret Garden:

AS LONG AS YOU LIVE….ugh…really?

Ok, so it's just a line in a book. But the point is, negative thoughts can get stuck swimming around in our heads and effect us years after being said or thought…essentially drowning us if we let them stay there.

Do you have negative thoughts that have followed you around since childhood

or perhaps even more recently?

Are you still replaying those words in your mind even today?

GUILTY over here!

And I don't know about you, but just when I think all of those old thoughts are finally gone, something will happen and that negative voice will come washing over me like a rogue wave crashing me onto the beach.

And I hate getting sand in my swimsuit!

But that annoying sand reminds me that even a little negativity can become a son of a "Beach" if I let it build up. (see what I did there?)

How do you keep those negative thoughts from drowning you?

Set up a floating HAPPY PLACE to keep you safe above those negative waves!

Now, yes, I LOVE WORDS….but I am also a visual girl. I like pictures, colors, textures, and such. So, I created a virtual collage…a snapshot of all of the things that make me HAPPY and that create JOY bubbles in my life. (yes…there is such a thing as JOY bubbles in my world…they bring all the GOOD STUFF to the top!)

This image below is so powerful that it can knock down any of my negative rogue waves in a nanosecond! Welcome to my Virtual "FLOATING" Happy Place:

Click on the Picture above to see the List of Things that make up my FLOATING HAPPY PLACE!

In this space, I can SMILE BIGGER, Breathe Easier,
and I am quite sure when I am there
I am Reflecting Big Doses of JOY back into the Universe.

Negative thoughts bounce right off this happy space. They are NOT getting in here!

Frances used her pen to create her Happy Places.

Anne Thwaite comments in her biography of Frances that

"Her gifts made it possible for her to escape for hours from the

intolerable pressures of real life."

I imagine her Happy Place might have looked something like this: 

Books, of any size, any shape, and any subject. They all thrilled her. She loved to read.
Parties with friends. Her house was always full, and she reserved Tuesday afternoons always for time with friends.
The Great Maythem Hall, the home she rented in the English countryside for 9 seasons. It had walled gardens, plenty of space for guests, and you could see the English Channel from the roof.
Writing letters to friends and family meant that she was traveling…and she LOVED to TRAVEL!
Hats, but fashion of any kind. Her son Vivian said that "Fashion was her best INDOOR sport".
Her boys, Vivian and Lionel.
The theater, and then movies when they came on the scene. 
Working in her rose and flower garden with her friend the Robin.
Color! She loved color. 
Being Nanda, a grandmother, and a fairy Godmother to so many children.

These are just a few of the things I suspect kept Frances afloat during the years of struggles and constant criticism from the press.

And because positive, happy place "floaties" come in all shapes and sizes,

here a some other ideas that may work better for you:

Create Pinterest Boards: 

This is a great place to gather: Positive Quotes, Encouraging Words, and things that make you happy so you can see them all in one place.

Use Your Phone:

Create an Album in your Photos with images that make you happy…and flip through them often!

Use the notes feature to list out: Positive Thoughts, Bible Verses that fuel you, things you are grateful for, and more!

Create A Joy Bubble Journal:

Because I am now making "Joy Bubbles" a thing…have a journal dedicated just to positive thoughts, ideas, gratitude and joy! Write in it daily…but even more…READ IT often!

USE STICKY NOTES, write on your mirrors, whatever works for you….just DO IT!

So now, when that negative thought comes crashing in…you can GRAB YOUR FLOATS and ride it out!

or an even better idea…

Take daily vacations to your "HAPPY PLACEs" and bring along a drink with an umbrella in it!

Drinking in the SUNLIGHT of good thoughts, 

FHB and Especially Me

P.S. Do you ever hear yourself dishing out advice to a friend, or perhaps your kids, and realized that it is really meant for you? 

I have been really struggling this week to stay above those very same waves of negativity. 🙁 On Labor Day I was burned significantly on my forearms and legs by this angry weed I was pulling out of the garden. (Hog weed/aka Blister Weed) It was quite painful…and it is NOT pretty.  And, at the same time my Bell's Palsy symptoms are popping back up again.  Big Sigh. 

I'm fine when I am busy and distracted, but it's those quiet times when it all seems too much. My mind is getting so laser focused on all the "issues" that I can't seem to see the goodness that is all around me. 

It weighs on my chest, my breathing even changes, the struggle is real for this self proclaimed Sunshine Blower! 

So it's time for me to take my own advice in a HUMONGOUS DOSE! If you need me, I will be in my Happy Place.  And, I might just get DRUNK on Sunshine! 🙂 

Cheers!

Let's Chat About It: 

What negative thoughts do you need to sink?

Where do you go to get a dose of Happy Positive Thoughts?