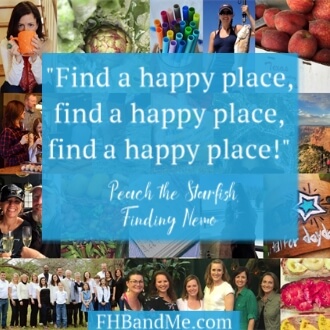 My Happy Place
May 25, 2016
My Virtual Happy Place:
Hot tea, morning, noon and night.
Steamed Artichokes dipped in hot melted butter or homemade Garlic Aioli.
Washable Crayola Super Tip Markers that make even the most mundane To Do List fun.
Catching fish, big ones. Then eating them of course!
Ripe Texas peaches that drip down your chin as you bite from Vogel's Orchards in Stonewall Texas.
Dancing with my man at the Hunt Store to the sound of the Sean Kendrick Band.
Cooking with my family the food we raised or harvested by hand…because it just tastes better.
Fall weather when I can put on my brown boots and jeans and curl up by a fire.
Anything from Nantucket, but especially the Portuguese Bread, slightly toasted with butter.
Twinkle lights…anytime, anywhere, any season.
The Grand Canyon. Go, just go. It took my breath away and left me speechless.
A Honeycrisp Apple from Deardorff Orchards in Minnesota…they are gold…pure gold.
Bubbles, my boyfriend, and baseball hats. All three are my staples.
Feasting on the bounty from my garden.
My morning Bible journaling time with the big guy: G-O-D.
Skiing in the spring with fresh powder and a super-hot-hot tub after.
Grown-Up sleep-away Art Camp at Lucky Star…it feeds my creative soul!
My girls (the chickens)…they love me, I love them, and they make me breakfast. Win-Win-Win!
My family. So blessed to have won the family lottery with this bunch!
My girl tribe. Everyone should have friends like these: real, honest, and a whole lot of fun!
Juicy Ripe Tomatoes from my garden topped with salt and pepper on buttered homemade toast for breakfast.
And rapping on stage to "Ice-Ice-Baby" while my husband attempts to beat-box badly. Classic.