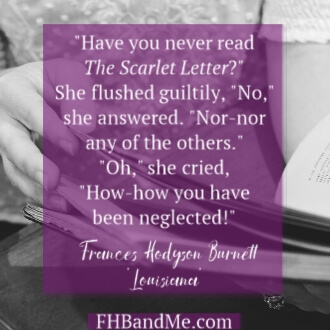 My Confession
June 24, 2016
"Have you never read The Scarlet Letter?"
She flushed guiltily, "No," she answered. "Nor-nor any of the others."
"Oh," she cried, "How-how you have been neglected!"
-Louisiana,  Frances Hodgson Burnett
I never told anyone I did, but I also never told anyone I didn't. It was my "Secret Garden Secret" that I knew would haunt me if I didn't finally come clean and do something about it.  I was almost 40 for goodness sake…it was time.  I couldn't bear one more tea party, where I sat clutching my tea cup shoving my face full of scones, hoping no one would ask the dreaded question:
"How old were you when you first read The Secret Garden?"
The truth: 38
I, Keri Wilt, great-great-granddaughter of the author of The Secret Garden, did not read "the book" until I was 38 years old. And while I am confessing , I didn't read Little Lord Fauntleroy and A Little Princess until I was 41.(less than a year ago) AND…I used to fake being sick in the 5th grade the day folders were due because I was so horribly unorganized. Sorry Mom!
YES…I know what you are all thinking! I get it! It's nuts right???
But, the pressure of 375 pages just seemed too much to bear…like the biggest pile of never ending laundry ever! Sure, I had read books before, but this was different. This was "THE BOOK". The book that every time I tell someone who I am related to, they GUSH about and go all "goo-goo eyed" on me because it was their favorite book ever.
As a kid I had seen the movies, seen it on Broadway (which was amazing) and watched all of my mother's presentations to schools about Frances and her life. "What's the big deal?" I thought.  It is, of course, just a book. And I already knew the story, or at least I thought I did.
These questions swarmed around me like bees that won't leave your lemonade alone:

What if I didn't like it?

What if it didn't have that same effect on me when I read it?

What if it isn't my favorite book ever?
But I think down deep I knew…
One summer in college, my future husband I were traveling all over Turkey. It was an amazing experience to be walking in places that the Bible took place, experiencing their history and culture, and just exploring. At some point towards the end of our journey, we stopped in a hotel bar in the capitol city of Ankara to have drinks with a business associate of Patrick's father named Albert. He was larger than life in size and personality and his smiles were contagious.
At some point during the night, we began to discuss Jesus. Now, I grew up in the front row of the Church, and while I was not "tight" with God at that time, I knew Him, and He knew me. Patrick, on the other hand, was on the fence, big time. Albert told Patrick that he wanted to tell him more about Jesus. But before he did, he warned Patrick, that once he knew the truth, more would be expected of him.
I think in my mind, once I knew the truth about Frances, her inspiring words, her stories, and her life, that more too would be expected of me. I knew if I read The Secret Garden, that it would open my eyes to a whole new world that frankly scared me. I knew once Frances colored my world…. Once we "connected"…that there was no turning back.
It is my legacy to share Frances with the world.

I know that now, but if I am honest with myself,

I have always deep down known that.

And not reading her books, kept me from having to own that.
In case you were wondering…I did love it. The Secret Garden blew my brain…the hope, the garden, the life lessons throughout, it all inspired me.  Now I GET IT.
Finally at peace, released from this secret,
Keri Wilt
P.S. I finished writing this confession above and realized I hadn't done my bible journaling for the day, so I opened up my D365 Daily Devotional App on my phone and this was today's PAUSE:
"For something to be revealed, something has to be first unseen. It could be hidden, or unnoticed, or camouflaged. When what was unseen is then revealed, we often react. Fear, awe, surprise, delight. Our emotions respond.  Open our eyes Lord, and let us see what you would have for us to see. Let us see with the eyes of Christ, and let us respond with a spirit of faith."
I LOVE IT when God draws direct lines for me through my writing and daily journaling time with HIM. It's like a little treasure when I find these things that make me do a happy dance.
"Lord, open me to what you would reveal. Prepare me to hear, believe, and enact this special gift you have chosen for me to receive. Thank you for revealing this to me. AMEN!" D365
LET's CHAT ABOUT IT:
This got me thinking… 
I wonder how many other things in my life and yours we might be purposefully (or not) unseeing? Can you think of any?
Or, have you done what I did for years, making myself so busy with stuff that I couldn't see a Mack Truck full of things unseen if it hit me?