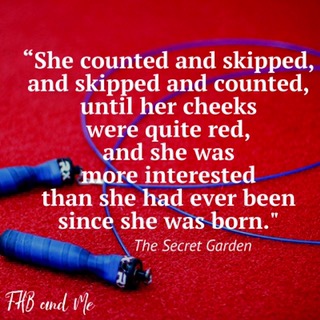 GENERATIONS ALIKE: FHB and ME at 42
November 21, 2016
"She counted and skipped,

and skipped and counted,

until her cheeks were quite red,

and she was more interested

than she had ever been since she was born."
The Secret Garden.
Counting is so fun! Counting freckles, counting toes, and of course counting your blessings. But to some, counting birthday's can be less fun…the older they get.
And this birthday is a BIG one for Frances to count! She was born in Manchester England on November, 24th, 1849, which according to my son's way of counting when he was just two…makes her "167 trucks old". Whew!
"That is a lot of trucks!", we would always say.
Then, when he was a little older, he loved to bet me that he could count to 100 faster than me. So when he would yell "GO", I would count as fast as I could and he would just say:
"1, 2, skip a few, 99, 100!"
I, of course, would complain with a grin and tickle him because he had tricked me…and he would giggle while still claiming the victory.
These sweet memories flooded into my mind after I jotted these words onto my idea pad:
"Generations Apart, with words in our Hearts".
I had been working all morning to come up with some simple, yet meaningful tag line that could somehow describe this "thing" I am doing here on FHB and Me with Frances.
The word GENERATIONS prompted me to count how many actual generations we were apart. Until now, I hadn't given much thought to our age differnce.
What I did know was that She is my GREAT-GREAT-Grandmother….and that is a lot of "greats". And it turns out that Frances and I ARE exactly 125 years apart in age. How crazy is that? Such a nice even number…not 124 or 127, but 125!
125 Years even has it's own fancy name: Quasquicentennial (try and say that one 10 times fast)
Then I wondered…when she was my age, 42, what was going on in her world?
1891 & 2016:
HER WORLD and MINE at the AGE of 42
At 42 I am:
…right in the throes of raising a 13 year old son and a 10 year old daughter…which means: driving endless trips of
carpools, trying to relearn the Math I did my best to forget, and cheering on the sidelines for whatever sport they happening to be playing that day…
and at 42, Frances was:
….just coming out of her year of mourning for her son Lionel who died of galloping consumption in December of 1890. She was still trying to come to grips with a life lived with only one child in her arms.
While Frances at 42 was:
…occupying herself with reading the Bible, specifically Revelations, after the death of her son and writing:
"If Leo(Lionel) had gone to Africa, I think I should have read about Africa. As it is, I read over and over the parts in those chapters which tell about the City, the City that has streets of pure gold, like unto clear glass. It always seemed like a fairy story until Leo went away. And then I was so hungry for him–it seemed as if I must have something real to think of, so I began to read, and imagine….I can't help trying to make it a place that would not seem too dazzling and strange and solemn for a boy to like…I try to remember more about the green pastures and the river of crystal that about the walls of jasper and sapphire and emerald and the streets of gold. But somehow I love the gates made of great pearls and always standing open."

My 42 year old self is:
…getting up each morning and sitting with God, my bible journal, a big cup of green tea…and soaking in all of the goodness in His word and smiling daily at His perfect timing in showing me the right words, right when I need them most.
I even got a chance to teach others how I hang out with God and journal at The Wanted Campference.
And while at 42 I am:
…writing weekly for my blog, giving speeches, and beginning to put together the outline of my first book, while doing my best to hold my head above water…
Frances at 42 was:
…throwing herself back into writing stories again, because she said:
"a short life is not wasted if another is built upon it".
She began to build upon his life with two books:
In Giovanni and the Other, Frances wrote about a grieving mother who "has a strange wish that he should seem still to live on earth and do things for other boys…"
She also began to write her story called The Drury Lane Boy's Club, which was inspired by the London charity with the same name, where she donated a reading room full of books…all dedicated in the name of her late son Lionel.
In her letter to the boys of Drury Lane, she said:
"Whether a man's world is at the West End or at the East,

in Drury Lane or Governor Square, Nature gives him a capital of his own

–Heart, Brain, and Two Hands."
Both books most likely included pieces of stories she would tell Lionel to keep his mind busy, as he was completely unaware of his impending death from galloping consumption.
At 42, I also spent time:
….traveling, traveling, traveling when not sick in bed to:
Knoxville & New Market Tennessee to celebrate Frances' arrival in the USA…150 years ago.
Argentina for a week with winemakers for my "real job" as a restaurant and wine bar owner, where I promptly arrived home and lost my smile. (to Bell's Palsy)
Cozumel Mexico for a friends 50th Birthday
and To Colorado to help the in-laws with their BIG MOVE.
While Frances at 42:
…spent much of her time doing what she loved most too: TRAVELING. When not overcome with sadness and grief she stayed for varying periods in:
Cannes, French Riviera
San Remo, Italy
London, England
Southport, England
Perhaps, while she was in London, she used the brand new London-Paris telephone system that officially opened in March of that year.
And while Frances at 42 was:
…celebrating a BIG WIN for international author's rights with the passing of The International Copyright Act of 1891 by the US Congress, which extended limited protection to foreign copyright holders from select nations
. The Act empowered the President to extend copyright to works of foreign nationals like Frances, who was not a US Citizen at the time, but was living there when not traveling.
THIS was a BIG DEAL for Frances, her stories, and of course her pocketbook.
…at 42 I am:
….simply CELEBRATING all of the daily GOOD-ness around me by counting the Joy in My Jar and the ROCKS in my Pockets.
While writing this blog, my heart hurt thinking about Frances and the immense sorrow she endured with the loss of her son. And then it lept for joy as she traveled, celebrated, and built up others.
Then I realized, FHB and Me, we are from different times, but somehow not much is really different.
Because whether it is 2016 or 1891 WE CAN ALL:
Feel the joys and pain of raising and losing children…
Seek the comfort of words to find our way forward…
Build upon dreams left behind by others and those stirring in our hearts…
Experience the freedom in travel…
and Celebrate big wins and small.
Happy Birthday Frances! May you continue to live forever in the minds of your readers.
Feeling closer to HER than I ever did before,
Keri Wilt, aka "Me"
P.S. God's timing is so cool. The day I posted this, one of my favorite daily devotions had a very similar theme and reminded me again…that we all have a story.
http://proverbs31.org/devotions/devo/everyone-has-a-story/
LET'S CHAT ABOUT IT
Are you like me and think sometimes that the other generation just don't understand us?
Since most of us will be spending time this week with our families and friends for Thanksgiving, I have a CHALLENGE for you.
Take some time to ask each person older than you: "What was your life like when you were my age?"
I have a feeling you may feel even more connected to them and perhaps COUNT them as an even bigger blessing in your life than you did before.